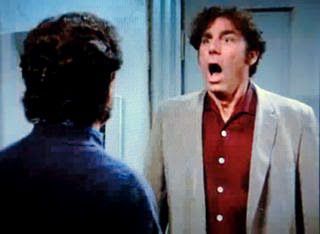 Ask anybody about their favorite episodes of Seinfeld, and the "Low Flow Shower Heads" episode is sure to be mentioned. As funny as this episode is, low flow shower heads are a reality, and I found this out first hand this week upon moving into our new house. My first shower was a dreadful, dreadful experience. On second thoughts, it can not actually be classified as a "Shower". It was more an inadequate "Trickle".
Now, I know we all need to conserve water, and respect the environment, and Low Flow Shower Heads help us sustain precious resources………but I am quiet sure my discharge of hot air after an inadequate shower does more damage to the ozone, so with that in mind, this is how I hacked my low flow shower heads.
**DISCLAIMER** – As stated, this is how "I" hacked "MY" shower – your system may be VERY different, and I take no responsibility should you fail catastrophically in your attempt to hack YOUR low flow shower head. This is simply an account of MY experience.
It's not actually the "Shower Head" that is the problem. This is a DECOY phrase those "They" people use to mislead you. It's the plastic "restricter" installed in the angled mounting piece of the arm that limits the flow of water.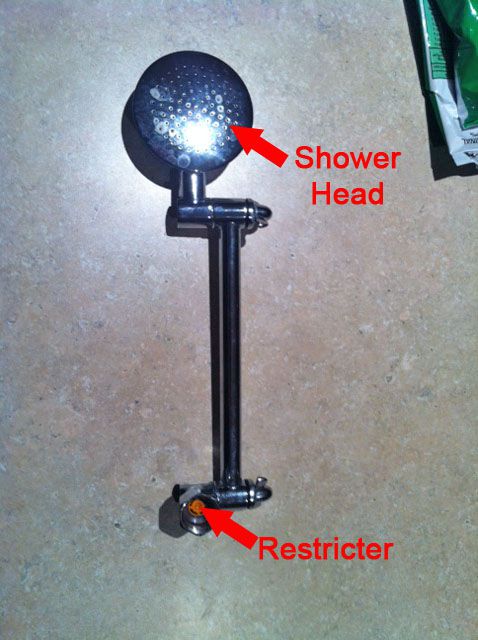 Where my shower arm mounts to the wall, I found a Hexagonal shaped coupling that screws to the hot water pipes. When I screwed it off, I found the water flow through the pipe was restricted by a plastic restricter. This restricter reduces the waters ability to flow through the pipe considerably by simply "blocking" it, hence the flow of water is low.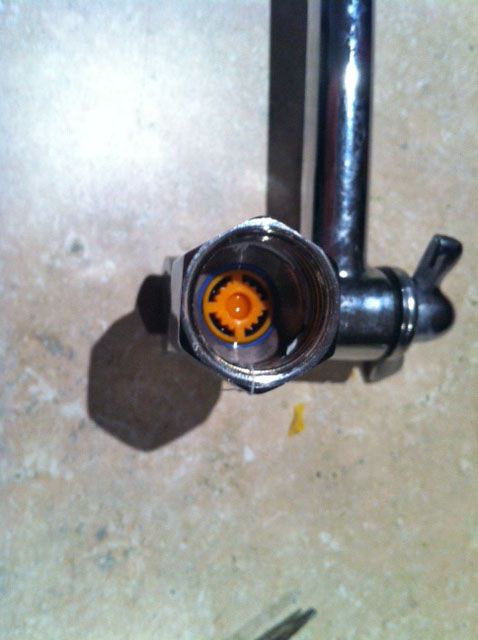 I learned that I could easily remove the plastic restricter from the waters path by "picking" it out with a small flat blade screw driver.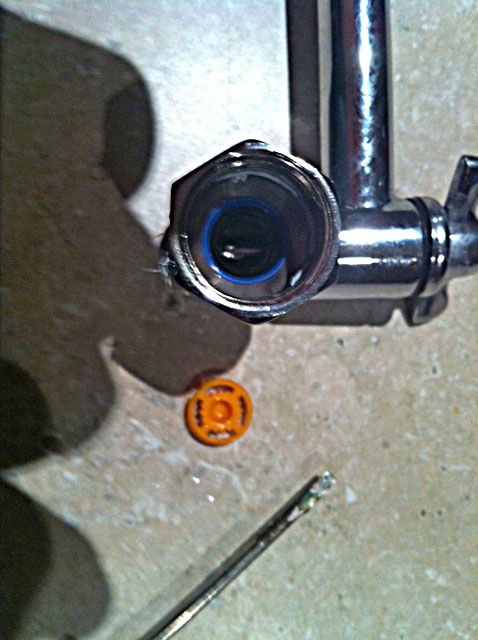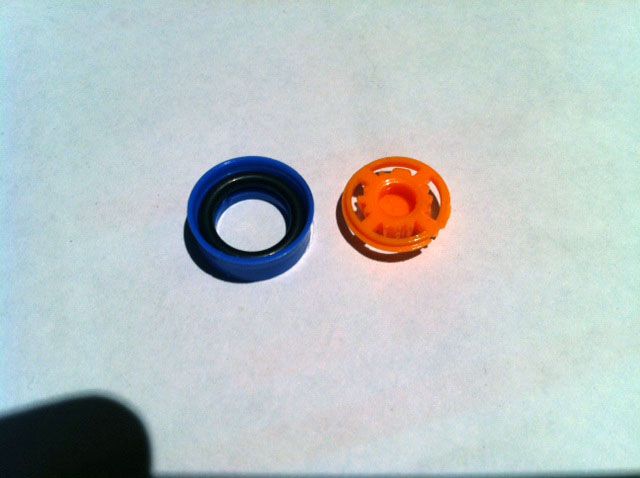 Once I picked out the restricter, I remounted the arm back to the wall, and voila! I was now able to wash ALL of the shampoo out of my hair!


Have you ever been sent a video, or downloaded a video from the internet that just wont play? Isn't it frustrating! Most times it is because the video has been encoded with  a codec (compressor/decompressor) that is not on your computer, therefore your system doesn't know how to play the file.
There are a lot of tools out there to help you with this problem, and with only a few of them, you will be able to play 99% of everything you come across easily.
If you have a windows computer, you will need to download "G-Spot" codec identifier.
And for Mac users, "Video Spec" codec identifier is an equivalent.
Once you have downloaded and installed your codec identifier, just drag and drop your pesky video file onto it, and the identifier will analyse it and tell you everything you wanted to know about it, as well as a bunch of stuff you didn't! Once you have identified the codecs used in creating the file, you can set about searching for it, installing it, and enjoying your video.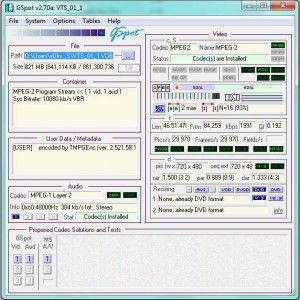 As mentioned in my "How to play almost any video with VLC Media Player" post HERE, you can play pretty much anything with VLC Media Player 😉 – But if you don't want to download a new player, and you are happy using Windows Media Player, or Quicktime, there are some FREE "plugins" which add extended capabilities to your favorite media player. Windows users will definitely want to get your hands on the K-Lite codec pack. There are small, medium, and large packs, but again, 99% of everything you will want to watch will work if you install the "Standard" pack. For Mac owners, Perian is definitely the first plugin you will want. It will allow you to play AVI, XVID, DIVX, FLV and MKV straight away, and for those who want to watch Windows WMV files, Flip For Mac is the solution. If you go to their site, they will push you hard towards their paid version, but there is a free version if you go via Microsoft HERE which will do everything you want it to do.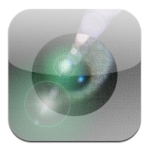 I found a really cool FREE iPhone app today called DateCam S. I needed to take some photo's and I wanted to have today's date actually burned into the pic, so anyone looking at it would know exactly when it was taken. A quick search of the app store revealed this jewel, which is now a permanent addition to my app collection. You can check it out on HERE on the Apple App Store.
Now I can look back to a time when there weren't any houses on the hill across the road, and know when it was. Somehow, I get the feeling that hill won't be house-free for too much longer!
Categories: Free Stuff, Photography, iPhone/iPod/iPad Tags: app, burn, camera, date, datecam s, free, image, into, iphone, photo

If you have a Windows based computer, and someone sends you a Quicktime video, or if you have a Mac, and you want to watch an AVI or a WMV video, your computer just isn't going to play it for you without some additional software. Over the years I have experimented with a lot of different programs, but there really is only one program users of all platforms require – Videolans VLC Media Player. It will play just about everything (including DVD's and Audio Cd's), regardless of your operating system and installed codecs, it supports playlists for audio and video, supports sending and receiving streams, and has tons of tweaks to allow you to adjust everything from brightness and contrast, to Digital Audio pass-thru for those of us using Dolby Digital/DTS enabled audio cards with Digital Coax or Fibre Optical SPDIF audio outputs. Below are the supported video playback formats: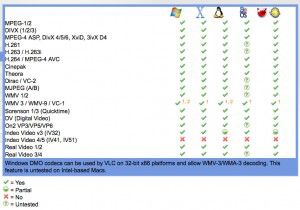 And the supported audio playback formats: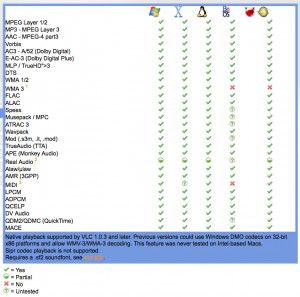 These are the supported Audio/Video outputs: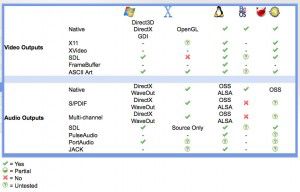 There are also some filters that you can apply to the playback.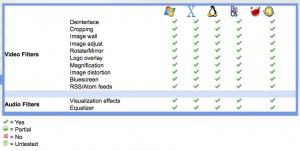 The main one I find useful is the de-interlace filter, which stops you getting the "stripped" effect when watch fast moving scenes in a interlaced video (like shown below)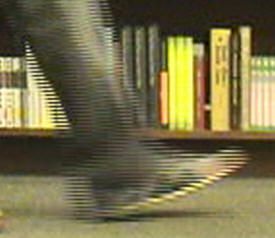 VLC Media Player also supports many formats of subtitles: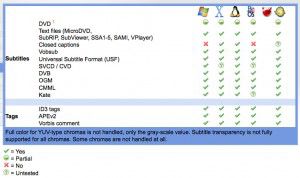 But the best part about VLC Media Player, it is ABSOLUTELY FREE!
So go and download it now at VideoLAN.org!

Mac users, Have you ever wondered how you can ad video's to iTunes and have them show up under the "TV Shows" headings? This is done via the files meta tags. To make adjusting the tags easy, download the free program Lostify from Major Geeks, and as you will see from the screen capture below, there are plenty of options that you can easily adjust to make your files appear where you want them.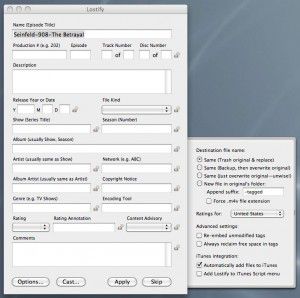 The programs official description is:
Lostify is a metadata tagger for MP4 videos. It runs on Mac OS X, and the tags it produces aim to be compatible with iTunes, the iPod video (5G), and Front Row. This means that after you tag a video using Lostify, it will show up in iTunes, iPod and Front Row appropriately as a TV Show, Music Video, etc., with all the episode information, season information, etc. intact.
Windows Users, The best I can find for you is a program called Atomic Parsley. It's a command line tool, and free, but I don't think you will be very happy with it. I Will keep searching for an equivalent and post here if/when I find one.