There's nothing I hate more than dropping new music into my iTunes library only to learn once it has finished importing that it doesn't have meta-tags (No Song Name, Artist, Album Title etc etc). So now, before I add new music, I run it through MusicBrainz Picard. Here's the programs description from their site:
"MusicBrainz Picard is a cross-platform (Linux/Mac OS X/Windows) application written in Python and is the official MusicBrainz tagger.
Picard supports the majority of audio file formats, is capable of using audio fingerprints (PUIDs, AcoustIDs), performing CD lookups and disc ID submissions, and it has excellent Unicode support. Additionally, there are several plugins available that extend Picard's features.
When tagging files, Picard uses an album-oriented approach. This approach allows it to utilize the MusicBrainz data as effectively as possible and correctly tag your music. For more information, see the illustrated quick start guide to tagging.
Picard is named after Captain Jean-Luc Picard from the TV series Star Trek: The Next Generation."
To get started, download and install MusicBrainz Picard HERE. Once you are up and running, drop the music files you want to tag anywhere in the window. They will then populate the list on the left called unmatched files.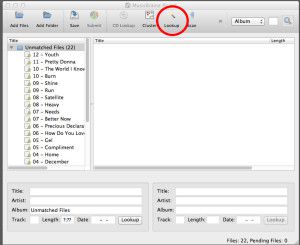 When you have finished adding files, click the line of text with the folder icon next to it that says "Unmatched Files" to make it active. When it is active it will become highlighted. Now, go ahead and press the "Lookup" button, and MusicBrainz Picard will start scanning your music and comparing it to their database for identification.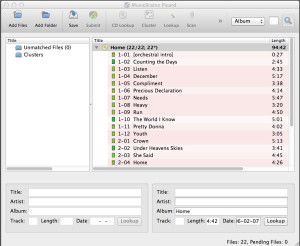 Once MusicBrainz Picard has identified the album and added all of the songs to it, the CD icon next to the album name will turn gold in color. If you don't have all of the songs from the album, it doesn't matter, you can still proceed, but the CD icon stays silver. The next step is to click Album Name next to the CD icon to make it active, and highlighted. You can now click "Save".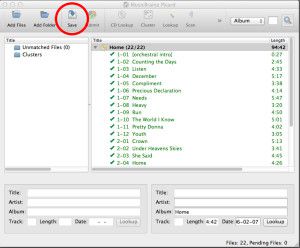 MusicBrainz Picard will now write the Meta Tag Data directly into your music files. Once it has completed, you can close out of the program, and then drop your music files into iTunes, and everything will be correctly categorised and ready to play.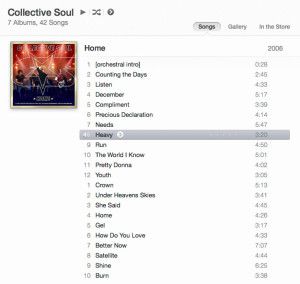 Be the first to comment - What do you think?
Posted by Greg - March 20, 2013 at 2:16 pm
Categories: Free Stuff, General, Linux and Unix, Mac, Windows and PC Tags: Identify, add, album, audio, cd, correct, data, easily, files, free, iTunes, label, linux, lookup, mac, meta, music, musicbrainz, organise, picard, quickly, songs, sort, tagger, tagging, tags, windows