Archive for February, 2014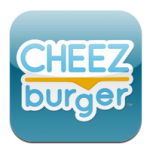 I really love the "Cheezburger" app on my iPhone. The photo streams of "I Has A Hotdog" and "Failblog" really help to get me through the day. But lately, for no reason, the app goes away, and the app store opens up to games like Candy Crush, Clash of Clans, Game of War and Zelda Dungeon. It is SOOOO frustrating!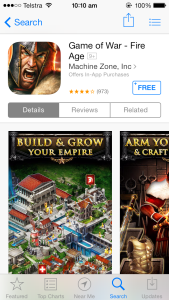 I have found a "Work Around" for this problem, and it's pretty simple. To stop this from happening, open up "Settings", and then select "General", and there is an entry in there called "Restrictions".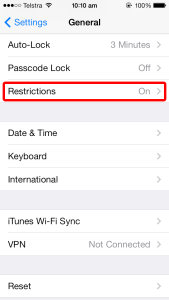 If you are using "Screen Lock" you will have to enter your password to open this section. Once you are in, simply turn "Installing Apps" off.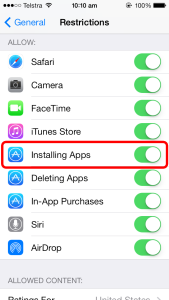 Once you have done that, you can close out of settings, and go back to browsing Uninterrupted. The only down side is that if you want to download a new app, you will have to go back in and turn "Installing Apps" back on.
Recently I learned about Vision 3's QuickS3D plug-in, which provides the ability to edit 3D Multiple Streams (Stereo Pairs) and Side By Side (Multiplexed) video natively in Adobe Premiere Pro and After Effects.
After Watching several demonstration videos about the plug-in, and reading Vision 3's site, I just had to have it. There are two different versions of the plug-in, A Lite version aimed at home users for $49, and a Pro version for $299. Most users will get the functionality they need in the Lite version.
There is no trial version of the software available, so I decided to jump in and purchase the Lite version for $49. Within minutes, I had a link to download the plug-in, as well as my activation key. I downloaded the software, and it installed easily. Upon opening Premiere Pro I was asked to supply my activation key, and upon submitting, I was presented with another window asking me for a password?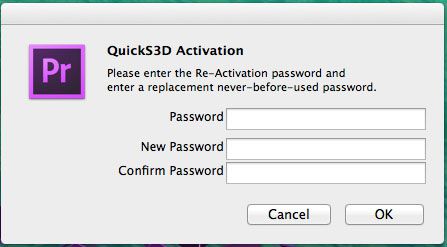 At first I was confused as to the purpose of this secondary password request window, so I began to search through the documentation supplied with the plug-in, read the EULA, and found no reference to it. I searched the Vision 3 website, and the support forums, and again, no information was found. I did notice the forum had been spammed though.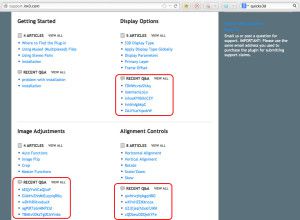 After spending some time contemplating the situation, I entered some passwords and it activated, and Premiere Pro opened up. I imported some Side By Side 3D video and started playing with it. As claimed, the QuickS3D does indeed provide the ability to edit 3D video natively. I especially liked the way I was able to add titles to my video, apply the plug-in, and create a really nice 3D effect between the text and the background video. It felt like the text was jumping out of the screen at me.
What I didn't like on first glance, which became incredibly annoying after applying the plug-in a few times was seeing all of the "PRO" version options greyed out. Screen real estate is at a premium in Premiere Pro anyway, but seeing so much space taken up by information which is irrelevant to me became infuriating quickly, and started to feel like a "In App Advertisement" designed to frustrate me into spending another $250 upgrading to the "PRO" version.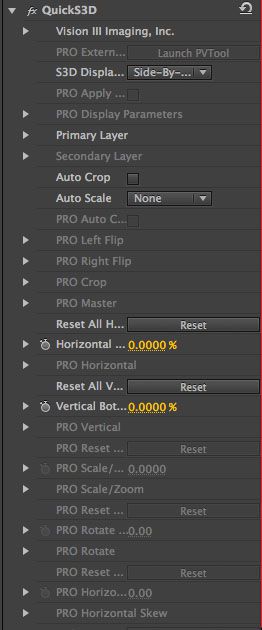 The basic functionality of the plug-in felt a bit buggy to me at first, as quite a few times my video seemed to automatically revert back to Side By Side, not long after switching to Anaglyph mode. Having said that, this behavior did settle down after a while. I guess I might have been dragging across the "Display" option drop down somehow and once I got used to the plug-in a little more I stopped doing it? Maybe…But probably not…
Of the few options available in the Lite version, the basic tasks most of us will want to use are available. Features as listed from the Vision 3 Website:
Display Features

Top/Bottom
Side – by – Side
Frame Offset to Sync
Work with Stereo Pairs or Multiplexed file
Onion Skin (50-50)
Anaglyph (Red/Cyan)
v3 Parallax

Image Adjustments

Auto Crop
Scale to Fit
Scale to Fill
Stretch to Fit

Alignment Tools

Percent Only
Horizontal/Vertical Only
A feature I really liked is the auto crop option. This comes in very handy when adjusting the horizontal and vertical placements of the left and right channels. Using "Scale To Fit" the plug-in will scale your video so both channels fit correctly in the frame.
At this point, I was quite happy with my purchase, and decided to grab my Macbook Pro to write a review. After pondering the implications of the "Passwords" dialogue box, I came to the conclusion that the developer must have been taking a sensible approach to licensing, by allowing us the opportunity to transfer our single machine license to another machine, giving us the option to "Choose" which single machine we use our license on, as Adobe does… WRONG!
After installing the plug-in on my second machine, I tried to input my passwords from my first machine to no avail, I tried to create new passwords to no avail, and after 3 attempts, the plug-in no longer worked on EITHER machine!
Quite concerned, I re-read the documentation that came with the software, double checked the website and forum, Googled my problem, and found nothing. Under the "Support" option on Vision 3's website I selected "Email Us", and sent in a request for support/clarification regarding the purpose of the "Passwords" dialogue box. A few minutes later I received an automated reply with a Ticket number saying I would receive support soon…..
After a few days I still had not heard back, and sent of another request for support. 3 WEEKS LATER I have still yet to hear back from Vision 3 regarding this issue! And not surprisingly, the spam has not been cleaned/removed from the support forum.
The Bottom Line – In My Humble Opinion: Vision 3's buggy QuickS3D Plug-In, whilst bursting with potential, is yet another piece of potentially excellent software crippled with anti-piracy measures to the point where those that have purchased it are "Guilty until deemed Innocent". Vision 3 has no interest in supporting it's paying customers or keeping a secure spam free support forum, they are interested only in getting your money. VERY DISAPPOINTING!

Part 3 – Installing Additional Cameras
In this video I show you how to add additional cameras to your Vidblaster setup in either Windows or Mac, and how easy it is to switch between them.
Note to Pros – These articles are aimed at beginners, who wish to spend little or no money until they have a grasp on the topic, and are hoping to learn how to get started quickly and easily, using equipment they most likely already have.
You can also use your iPhone, Android and Nokia smart phones as cameras by using Epoccam as shown in this tutorial.
You can download a free unrestricted trial copy of Vidblaster from vidblaster.com


Part 1 – Selecting Video Switcher Production Software – The Heart of Vidcasting – VIEW HERE
Part 2 – Installing Vidblaster, Connecting Your Webcam, Switching and Interface Basics – VIEW HERE Part 3 – Adding Additional Cameras – VIEW HERE
Part 4 – Mixing Audio, Mics, and Avoiding Looping in Software – VIEW HERE
Part 5 – Desktop and Browser Capture – VIEW HERE
Part 6 – Connecting Guests Via Skype – VIEW HERE
Part 7 – How To Make A Lower Third Overlay – VIEW HERE
Part 8 – Adding flair with Effects, Soundboards and Chat Streams – COMING SOON!
Part 9 – Green Screen/Chroma Keying and Virtual Sets with iClone – COMING SOON!
Part 10 – Recording and Streaming – COMING SOON!