Archive for December, 2015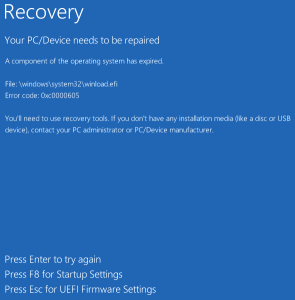 I hate Windows……I really really do…….
Long story short, as I am a beta tester for Micro$oft I previously installed a preview version of Windows 10. My life circumstances have changed since, so I haven't been keeping up with its development, nor have I been updating the brand new HP PC I bought for it.
So today (Some time after the trial version has expired) I turned on the machine……BRICK…….nothing.
Couldn't boot from disk, couldn't boot from a USB drive, NOTHING but:
"a component of the operating system has expired"
The bottom line, if you want to reclaim your files and reinstall or upgrade, just boot into BIOS and set the date to JUNE 2015.
Be the first to comment - What do you think?
Posted by Greg - December 29, 2015 at 6:47 pm
Categories: Free Stuff, General, Gregs Rants, Tech, Windows and PC Tags: 10, Boot, Error, a, activate, beta, component, expired, files, fix, has, microsoft, of, operating, reactivate, reclaim, recover, reinstall, repair, restart, save, solve, system, the, trial, upgrade, version, windows