Archive for October, 2011
Over time I have sent a lot of email from my iPhone, and it seems like iOS4/5 remembers every one of them fondly. As soon as I start typing an address it offers me a list of all of those email addresses that I sent one email to 3 years ago, instead of the one I want, and use regularly. In this post I am going to show you how I cleared that list on my phone.
As you would expect, you need to download a third party app and hack into the bowls of your phone to do this. And if you do decide to do this, you do so at your own risk ok!
I found a program called iBackUpBot, which lets you modify a number of aspects of your iOS4/5 device. Its not a free program, but there is enough functionality in the trial version so you can clear your recent emails list though. There is a Windows and a Mac version, so the procedure will work on both systems. Download and install.
Once you have downloaded, plug your phone in, and open iTunes. The first thing you need to do is make a back up, because its the back up files you will be working on. To force a back up, Right click on your device in the iTunes side bar and select "Back Up" from the context menu.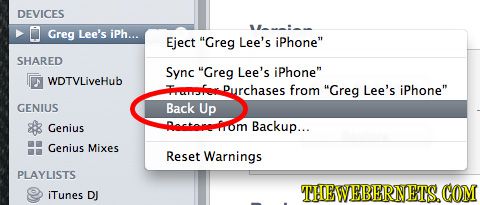 Once the back up is complete, you can close out of iTunes, but leave your phone connected. Now open up iBackUpBot. You will need to select the back up file you just created (by device name, date and time) and click it. It will then start analyzing your back up file. Once it has finished analyzing you will see a whole bunch of entries appear on the right. Dont worry about these, as we wont be using them for this procedure. The next step is to select "Plug In" from the menu, and then select "Recent Email Addresses".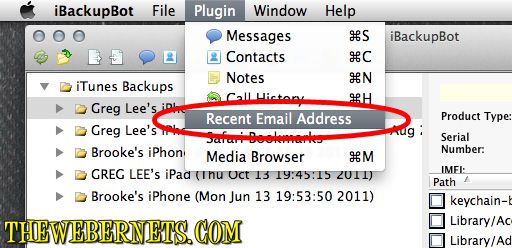 You will be confronted with a window that prompts you to purchase the program, you can click the cancel button to make it go away. Once it disappears, a window called "Recent Email Address Viewer" will pop up and you will see the list of recent email addresses stored in your phones memory. You can now go through the list and delete the ones you don't want to see any more, and keep the ones you do. Just click on the offending address then hit your delete key. Once your finished, click the "Close Database" icon to save your changes and close out the window.

Now it's time to reload your modified file back to your phone. Click the "Restore Backup To iPhone" button to begin. You will have to click OK/Accept in a dialogue box, and it will take a little while, so be patient.

Once everything is finished, you can close iBackUpBot, disconnect your phone and try it out!
Ahhhh…….No More irrelevant email addresses……….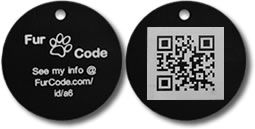 Over the years since I began Dogs With Blogs, I have received a lot of emails from people with all kinds of weird and wonderful new ideas. I recently heard from Furcode.com about their High Tech Pet ID Tags, and this is one idea I really want to get behind. I think its a great product!
Now, I really cant take anything away from Micro Chipping, because it is always with the dogs. Even if the dog slips its collar off, they can still be identified. I do now however see Micro Chipping as a secondary or "Back Up" means of identification. For INSTANT pet identification (with no need to take the animal to a vet or shelter to have the chip read) you cant beat FurCode.com High Tech Pet ID Tags.
My initial thought on the QR Code was that it might not mean anything to a "non-techie" person, but it is definitely a technology that is going to grow and become more main stream, no doubt. What I really like about these tags is the unique web address that comes with every tag. Once you receive the tag, you log in to your web page, and you can type in ALL your dogs details. Now, if your doggy busts out, whoever finds them can look at their web page, and contact you IMMEDIATELY.
Now, you might be thinking "doesn't an ordinary dog tag do that?", and the answer is yes, but that's all it does. What if your doggy is hurt, and needs vet attention, but is allergic to specific medication? By logging on to the dogs web page, the person who finds it knows instantly not only who owns the dog, but who it's vet is, allergies, dietary needs, medications, conditions, vaccinations, and a swag of other important information that can keep your doggy safe and alive.
What if your phone breaks? Or you are out of town? If your pooch is wearing a Furcode Tag when he/she escapes, you can ALSO be contactable via your Mobile/Cell, alternate phone numbers, email, Facebook and Twitter! Imagine trying to jam all of that onto a regular tag!
The best part about this, its just SO easy to update. No forms, fees, trips to the vet, just log in to your online account and make the changes – simple!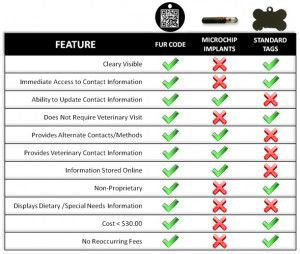 If you have an iPhone, I can't recommend "Scan" QR Code Reader highly enough. Its free, simple, and just works! You can check it out on iTunes HERE or on QR Code City's web site HERE.
Check out FurCode.com HERE.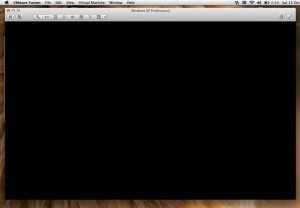 If your like me and run Windows on your Mac using VMWARE Fusion, you have probably been getting really frustrated lately at the blank black screen you see when you try to run your virtual machine. I haven't found a permanent fix for this, and I hope the folks at VMWare are looking into it, but I have found a workaround, which has worked for me.
TRY THIS AT YOUR OWN RISK – I ACCEPT NO RESPONSIBILITY IF YOU BREAK SOMETHING – THIS IS MERELY A RECOUNT OF HOW I WAS ABLE TO RESOLVE THE ISSUE – YOUR RESULTS MAY BE VERY DIFFERENT!!!
I have performed this workaround not only on my Macbook Pro, but on my Mac Pro as well – it worked in both instances.
To begin, I went back to VMWare's site HERE and re-downloaded VMWare Fusion 4 (I use the lite version without McAfee)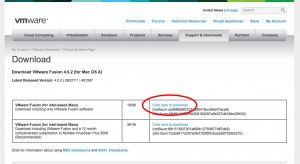 Once the download was complete, I mounted the .dmg and tried to simply drop the app icon onto the Applications Folder……..FAIL!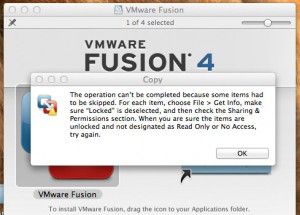 I cant stress enough, I accept NO responsibility if you try this and it fails for you ok!
At this point I opened up my Applications folder and dragged the VMWare app to the trash – I had to type in my admin password before the system allowed this. Initially I was worried that my license would get deleted as well, but I had a hunch the license would be stored elsewhere deeper in the bowels of my Mac, so I pressed on.

After the app was successfully moved to the trash, I was able to drag the VMWare logo from the .dmg into the Applications folder. Again, I was asked to type in my Admin password.
Once it had completed copying, I unmounted the .dmg, and clicked the icon in my dock to boot my Windows XP Virtual Machine. An alert popped up telling me that VMWare had to update some resources, and again I had to type my Admin password……………..AND THEN…..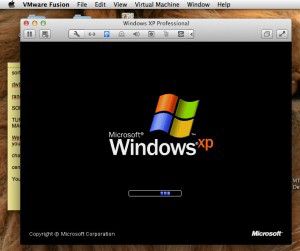 LOOKIN GOOD……………….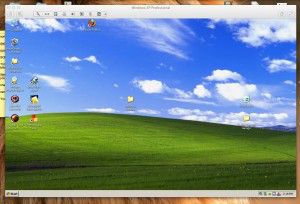 YES! Back in the game!
Since I discovered this workaround about 10 days ago, my Mac Pro hasn't skipped a beat. I updated my Macbook Pro last night with new iCloud features, and my Virtual Machine Black Screened again this morning. So I re-tried the work around for the creation of this article and It worked again for the second time.
I know its a pain to perform, but it did work for me, and if I have to choose between not using my Virtual Machine at all, or spending three minutes performing the workaround to get going again, I know what I would prefer to do.
Lets hope the folks at VMWare sort this one out soon!